This news release constitutes a "designated news release" for the purposes of the Company's prospectus supplement dated September 2, 2022 to its amended and restated short form base shelf prospectus dated January 4, 2022.
Vancouver, British Columbia–(February 7, 2023) – HIVE Blockchain Technologies Ltd. (TSXV: HIVE) (Nasdaq: HIVE) (FSE: HBFA) (the "Company" or "HIVE") is pleased to announce the production figures from the Company's global Bitcoin operations for the month of January 2023, with 260 Bitcoin produced in January, plus USD $180,000 of income from grid balancing, and a current BTC HODL balance of approximately 2,430 Bitcoin mined with green energy, representing an approximate 20% year over year growth (2,043 Bitcoin HODL in Jan 2022). The Company notes its year over year monthly production in January 2023 is consistent, during a period where BTC mining difficulty has gone up approximately 60%. Additionally, HIVE does not have any equipment financing or BTC backed loans.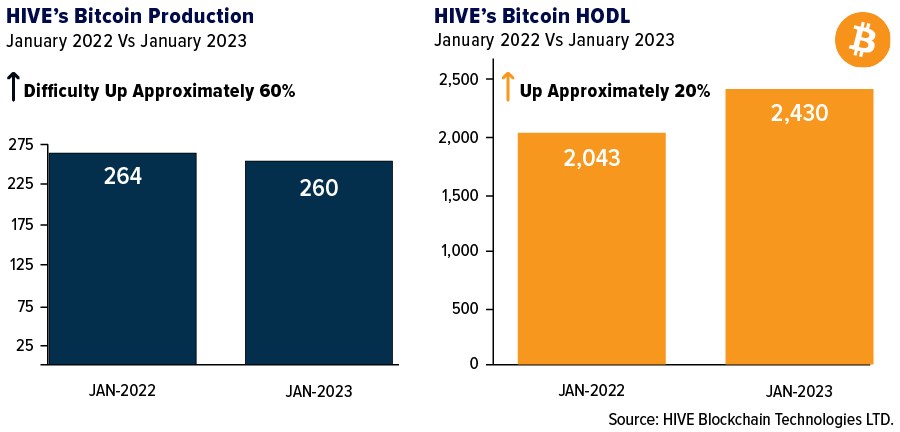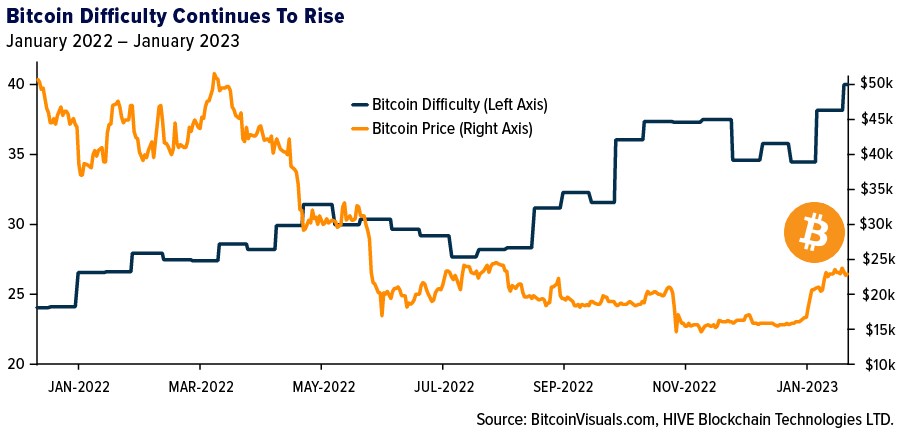 Summary Overview:
HIVE produced 260 Bitcoin in the month of January, from ASIC and GPU mining operations, representing an average of 110 Bitcoin Per Exahash. A 21% month over month increase, compared to December 2022 (214 Bitcoin produced).
HIVE's year over year monthly Bitcoin production was consistent (260 Bitcoin in January 2023 and 264 Bitcoin in January 2022), during a period where the Bitcoin network difficulty increased approximately 60%.
HIVE earned USD $180,000 in income from balancing the grid, in addition to Bitcoin produced in January. Based on the daily Bitcoin prices during the month of January, the income from grid balancing would equate to a mined value of 10 Bitcoin.
HIVE deployed over 6,700 new generation ASIC miners in its data centers, representing one of the largest upgrades in the Company's history, to improve our gross mining margin and fleet efficiency.
HIVE has deployed over 3,200 BuzzMiners in its facilities in Sweden and Canada. These miners are from the 5,655 BuzzMiners manufactured, tested, and received to date.
HIVE has fully deployed all the 3,570 S19j Pro miners acquired in December 2022 into our New Brunswick and Lachute facilities. As a result of in-house software improvements by HIVE's technical team, we further increased our efficiency at our New Brunswick site by approximately 20% in average J/TH efficiency.
HIVE expects to receive an additional 645 BuzzMiners in the next 2 months, representing a total production quantity of 6,300 BuzzMiners powered by the Intel Blockscale ASIC for the initial production run. HIVE is the first company in the world to commercially deploy thousands of its own Bitcoin ASIC miners powered by the Intel Blockscale ASIC.
HIVE sells all of the Bitcoin earned from our GPU mining hashrate, with a focus to HODL the green Bitcoin mined from ASICs.
January 2023 Production Figures
Frank Holmes, Executive Chairman of HIVE stated, "We are very happy to have overcome several big headwinds over the past year such has Bitcoin prices falling 50%, the Global Difficulty surging 50% which means fewer coins mined unless you increase both the efficiency of ASIC chips and number of machines mining which HIVE has done. Even with huge headwinds like the FTX bankruptcy and contagion, the HIVE management team has stayed focused and increased its BTC production and our HODL Bitcoin position. Further we have pivoted with our GPU chips away from Ethereum after the Merge and are using Ai to mine alternative coins and convert into Bitcoin, thus we are able to generate Bitcoin revenue. We have decided to sell the BTC earned using GPU/Ai and strive to HODL our Bitcoins created from hydro and geothermal electricity. We have not been using our ATM since November 30, 2022, and have been able to create other sources of revenue from balancing the grid to selling back energy while deploying the new Intel BuzzMiners and purchased other highly efficient ASIC machines from internal cash management. Our financial success has been from our company's values, culture, and strategy to have propriety software and strong global partnerships. Finally and fortunately we never borrowed at predatory 12-18% interest rates or kept our Bitcoin in crypto exchanges and I am very proud of the team's agility to adapt thoughtfully and quickly to the many external crisis's through the crypto winter bear market of 2022."
Aydin Kilic, President & CEO of HIVE noted "We are proud to be producing 260 Bitcoin while also earning over USD $180,000 this month from our grid balancing initiatives. Our team has deployed over 6,700 ASIC miners in our data centers, including over 3,200 HIVE BuzzMiners, powered by the Intel Blockscale ASIC and all of the 3,570 S19j Pros we acquired in December 2022. HIVE was the first public crypto mining company to realize income from its grid balancing program in Sweden. We view grid balancing as part of our core strategy, and whenever possible, we seek to hedge energy prices."
Mr. Kilic continued, "We have increased our overall hashrate by 25% month over month from December 2022 to January 2023. We are continuously looking to optimize our allocation of energy as a resource, either to generate hashrate or sell energy back to the grid. Moreover, if unhedged spot prices are uneconomical in a specific jurisdiction, we quickly scale down our production. Additionally, our remaining GPU fleet is now generating approximately USD $80/MWHR in revenue, which is similar to the USD $/MWHR compared to Bitcoin ASIC miners in the current Bitcoin mining economics. We are constantly optimizing the deployment of our technology resources as a company to optimize profit. These advancements and agility allow us to generate positive gross mining margin during a crypto mining bear market. With a strong balance sheet of over USD $56 million of Bitcoin, HIVE is well positioned in the market today."
The Company's total Bitcoin production in January 2023 was:
260 BTC produced;
8.4 BTC produced per day on average;
2.68 Exahash of BTC Hashrate (BTC ASIC hashrate plus BTC GPU Hashrate) as of January 31, 2023 comprised of 2.52 Exahash of ASIC BTC hashrate and 0.16 Exahash of GPU BTC Hashrate (the GPU fleet was curtailed to earn income for grid balancing) as of January 31st; and
Monthly average of 2.37 Exahash, which is equal to 110 Bitcoin per Exahash, comprised of an average of 2.28 Exahash of ASIC mining capacity and an average of 90 PH/s of Bitcoin GPU mining capacity during the month.
Bitcoin HODL Update
As of the date of this press release, HIVE has approximately 2,430 Bitcoin, with a market value of over USD $56 million.
Bitcoin Global Network Mining Difficulty Is Volatile
Network difficulty factors are a significant variable in the Company's gross profit margins. The Bitcoin network difficulty was 34.1T as at January 1, 2023 and increased to 39.4T as at January 31, 2023. Accordingly, Bitcoin mining difficulty ended the month about 15% higher than the beginning of the month.
The Bitcoin Network Difficulty is a publicly available statistic, that reflects the total number of Bitcoin miners online and is important in analyzing a company's gross profit margins, and number of Bitcoin produced. This data is available on many websites, here is one citation: https://www.blockchain.com/explorer/charts/difficulty
As more people mine Bitcoin (difficulty increases), the daily Bitcoin block reward which presently is fixed at 900 Bitcoin per day, gets split amongst more miners; thus each miner receives a smaller portion of the block reward. Conversely, as Bitcoin prices fall, many miners may lose money, and power down, thus taking their hashrate off the network, causing Network Difficulty to decrease.
Those miners with the lowest costs of production; by virtue of having more efficient machines and/or lower energy costs, are able to continue their production during these volatile cycles. Not all miners will continuously mine during a given month. As a result, some miners will produce less Bitcoin than expected, relative to their advertised hashrate. For the foregoing reasons, HIVE will self-curtail part of its operations if the unhedged spot energy prices are uneconomical, thereby leaving part of its total gross hashrate unutilized.
All Bitcoin miners are striving to use the most efficient Bitcoin ASIC chips, and we are happy that we have been able to upgrade our global fleet during this crypto market downturn.
ATM Equity Program Update
Effective as of the date hereof, the Company has terminated its at-the-market equity distribution agreement under which the Company had the option to sell up to USD $100 million of common shares of the Company at its discretion (the "ATM Equity Program"). The Company did not offer any shares under the ATM Equity Program after November 30, 2022. From inception of the ATM Equity Program to November 30, 2022, the Company issued 1,306,474 common shares (the "ATM Shares") for gross proceeds of USD $3,941,736. The ATM Shares were sold at prevailing market prices. A cash commission of USD $118,252 on aggregate gross proceeds from the ATM Equity Program was paid to the Company's sales agent.
About HIVE Blockchain Technologies Ltd.
HIVE Blockchain Technologies Ltd. went public in 2017 as the first cryptocurrency mining company with a green energy and ESG strategy.
HIVE is a growth-oriented technology stock in the emergent blockchain industry. As a company whose shares trade on a major stock exchange, we are building a bridge between the digital currency and blockchain sector and traditional capital markets. HIVE owns state-of-the-art, green energy-powered data centre facilities in Canada, Sweden, and Iceland, where we endeavour to source green energy to mine digital assets such as Bitcoin on the cloud. Since the beginning of 2021, HIVE has held in secure storage the majority of its treasury of ETH and BTC derived from mining rewards. Our shares provide investors with exposure to the operating margins of digital currency mining, as well as a portfolio of Bitcoin. Because HIVE also owns hard assets such as data centers and advanced multi-use servers, we believe our shares offer investors an attractive way to gain exposure to the cryptocurrency space.
We encourage you to visit HIVE's YouTube channel here to learn more about HIVE.
For more information and to register to HIVE's mailing list, please visit www.HIVEblockchain.com. Follow @HIVEblockchain on Twitter and subscribe to HIVE's YouTube channel.
On Behalf of HIVE Blockchain Technologies Ltd.
"Frank Holmes"
Executive Chairman
For further information please contact:
Frank Holmes
Tel: (604) 664-1078
Neither the TSX Venture Exchange nor its Regulation Services Provider (as that term is defined in policies of the TSX Venture Exchange) accepts responsibility for the adequacy or accuracy of this news release.
Forward-Looking Information
Except for the statements of historical fact, this news release contains "forward-looking information" within the meaning of the applicable Canadian securities legislation that is based on expectations, estimates and projections as at the date of this news release. "Forward-looking information" in this news release includes, but is not limited to, business goals and objectives of the Company; the results of operations for January 2023; the HODL strategy adopted by the Company; the acquisition, deployment and optimization of the mining fleet and equipment; the continued viability of its existing Bitcoin mining operations; the results of the ATM Equity Program, and other forward-looking information concerning the intentions, plans and future actions of the parties to the transactions described herein and the terms thereon.
Factors that could cause actual results to differ materially from those described in such forward-looking information include, but are not limited to, the volatility of the digital currency market; the Company's ability to successfully mine digital currency; the Company may not be able to profitably liquidate its current digital currency inventory as required, or at all; a material decline in digital currency prices may have a significant negative impact on the Company's operations; the volatility of digital currency prices; continued effects of the COVID-19 pandemic may have a material adverse effect on the Company's performance as supply chains are disrupted and prevent the Company from carrying out its expansion plans or operating its assets; and other related risks as more fully set out in the registration statement of Company and other documents disclosed under the Company's filings at www.sec.gov/EDGAR and www.sedar.com.
The forward-looking information in this news release reflects the current expectations, assumptions and/or beliefs of the Company based on information currently available to the Company. In connection with the forward-looking information contained in this news release, the Company has made assumptions about the Company's objectives, goals or future plans, the timing thereof and related matters. The Company has also assumed that no significant events occur outside of the Company's normal course of business. Although the Company believes that the assumptions inherent in the forward-looking information are reasonable, forward-looking information is not a guarantee of future performance and accordingly undue reliance should not be put on such information due to the inherent uncertainty therein. The Company disclaims any intention or obligation to update or revise any forward-looking information, whether as a result of new information, future events or otherwise, other than as required by law.
crocon media is owned by the sillc assembly. This site is for entertainment purposes only. The owner of this site is not an investment advisor, financial planner, nor legal or tax professional and articles here are of an opinion and general nature and should not be relied upon for individual circumstances.
Editorial Disclosure: The editorial content on this page is not provided by any entity mentioned herein. Opinions expressed here are the author's alone, and have not been reviewed, approved or otherwise endorsed by any of these entities.